Eclipse Cross
Here now, for wherever next.
Combining sophisticated aesthetics and sporty performance with SUV practicality, the new Eclipse Cross is a stylish and dynamic choice for drivers on the move.
Packed with
features
Smartphone link Display Audio
with 8" touchscreen
Safety
Rear view camera
Forward Collision Mitigation (FCM)K10
Diamond Advantage
New car warranty
View Inventory
Book a Test Drive
Exterior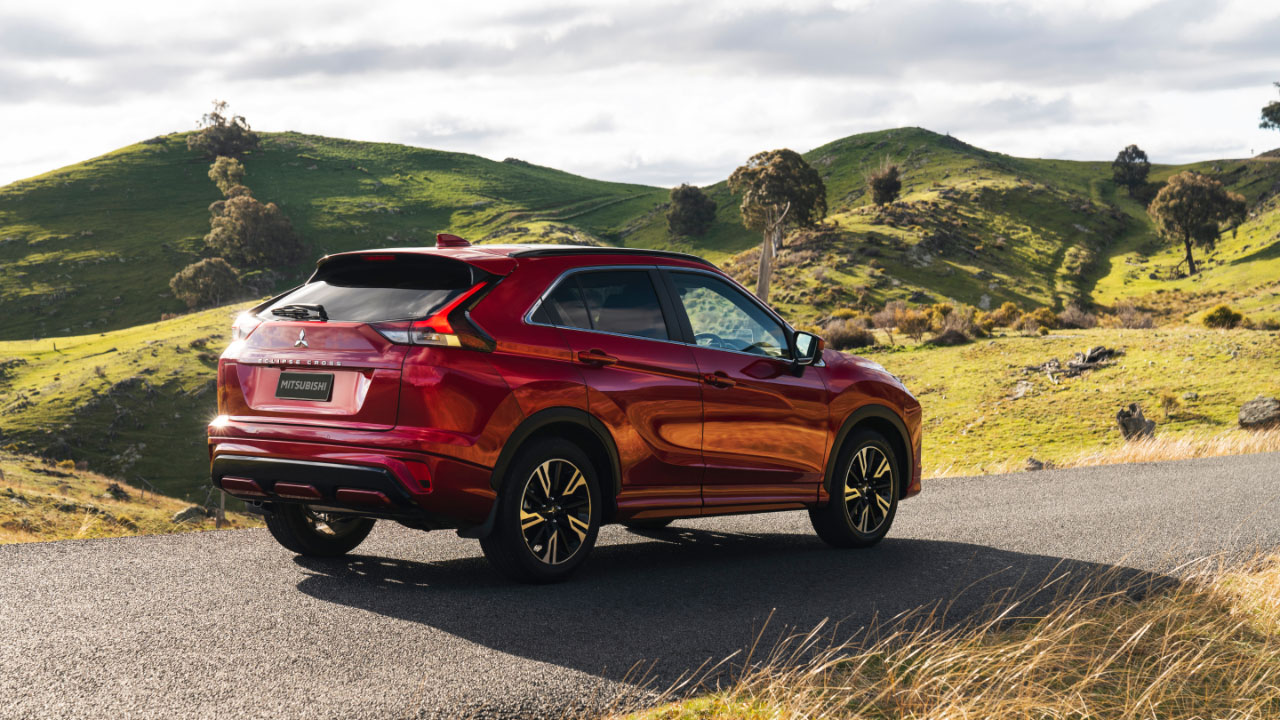 Sleek and
refined
Distinctive lines define the purposeful stance of Eclipse Cross, hinting at the turbocharged performance and dynamic handling that await the driver.
View Inventory
Book a Test Drive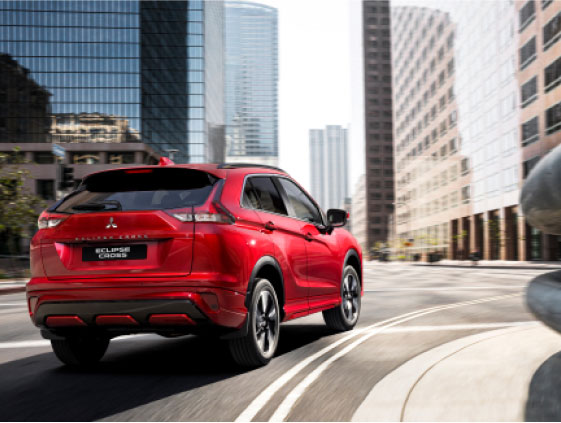 Bold, keen & confident
New Eclipse Cross has an extended profile, featuring sculpted lines with dramatic front and rear styling that emphasises its defiant individuality.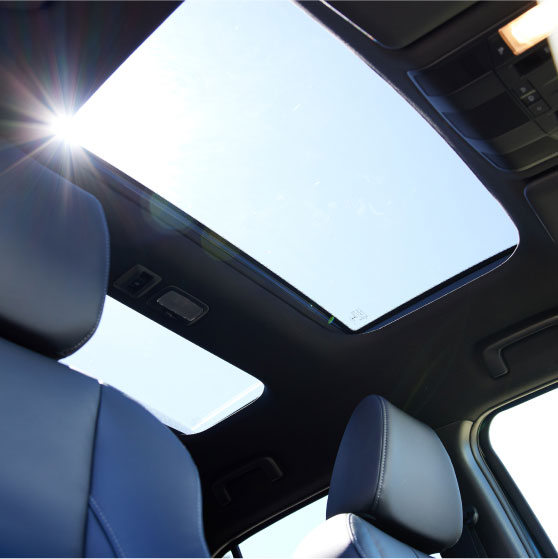 Let the sun shine in
Experience a bright, light and airy interior with the double panoramic power sunroof on Eclipse Cross Exceed. The powered front section tilts and slides for the ultimate fresh air driving experience, while front and rear passengers enjoy sky views. Both sections have sun blinds to help you keep your cool on hot days.
Contemporary
vision
See and be seen with Eclipse Cross's powerful headlights, integrated daytime LED running lights. Tail and brake lights are also LED for crisp, clear visibility and longevity.
Interior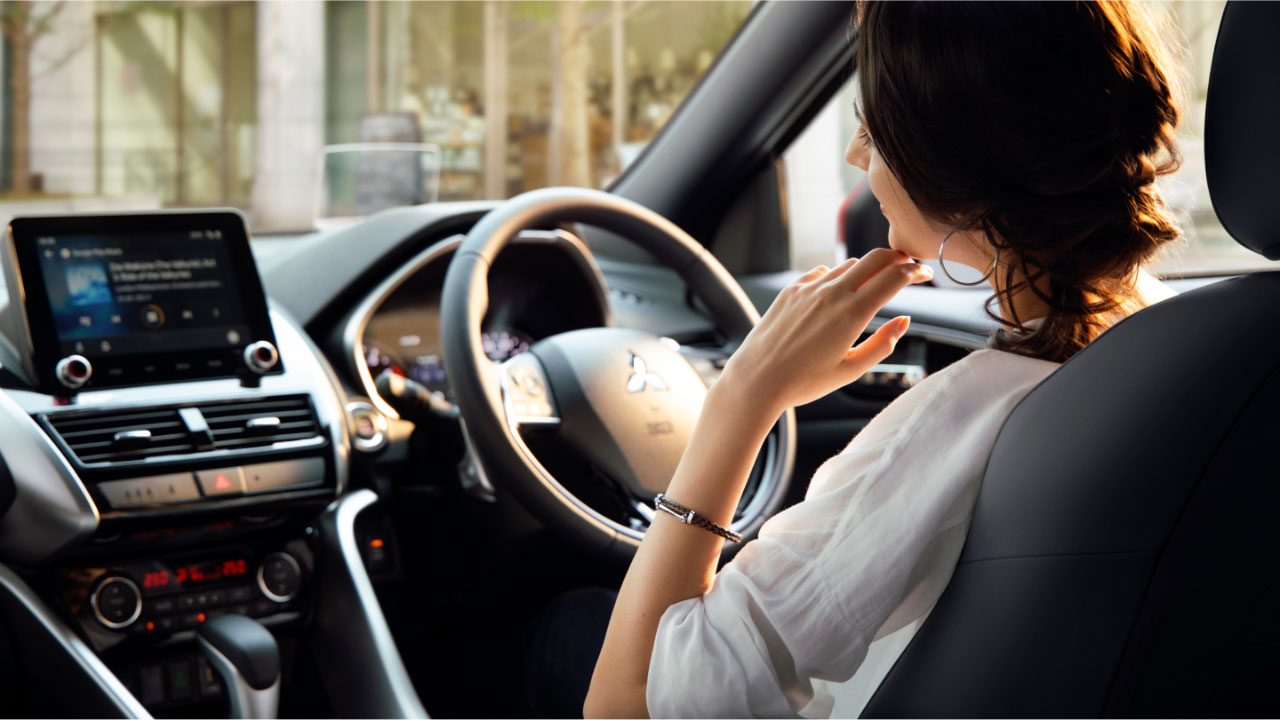 First class

comfort and functionality

From the moment you open the door, Eclipse Cross welcomes you in with premium finishes, ergonomic comfort and abundant features. A new 8" touch screen delivers effortless connectivity and heated seats front and rearC1 provide year-round warmth.

View Inventory Book a Test Drive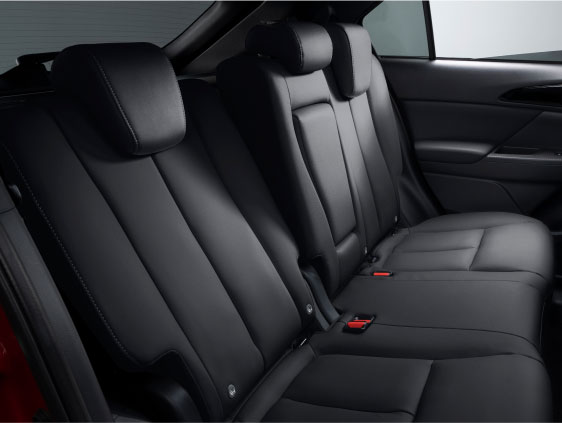 Sensational seating
Driving Eclipse Cross is all about comfort and control, with supportive bolstered seats that put you in the perfect position. Aspire models feature heated front seats and power adjustment for the driver. In Exceed models, both front seats have power adjustment, while front and rear seats are leather appointed and have heated cushions and seatbacks.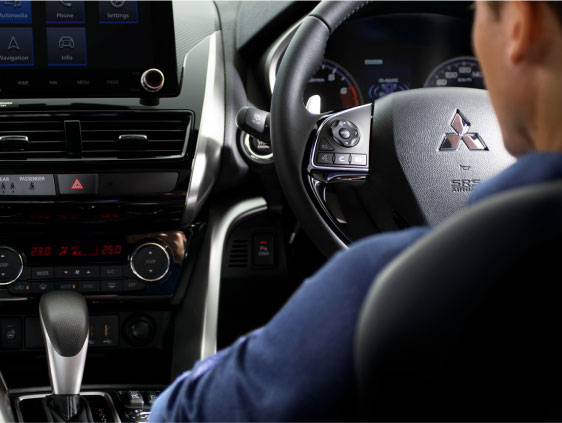 Clever connectivity
Eclipse Cross features the latest generation 8" touchscreen to keep you in touch and on the right track, with prominent volume and tuning knobs for ease of use. Mitsubishi's Smartphone link Display Audio (SDA)K6 technology links Eclipse Cross with your phone via Android Auto™K11 or Apple CarPlayK12. Access your smartphone's compatible apps to find your way, stream your soundtrack from any source and stay in touch with voice calls and messages. Exceed models feature integrated satellite navigation so you always know which way to go next, and an 8 speaker Mitsubishi Power Sound System makes the journey a blast.
Explore interior features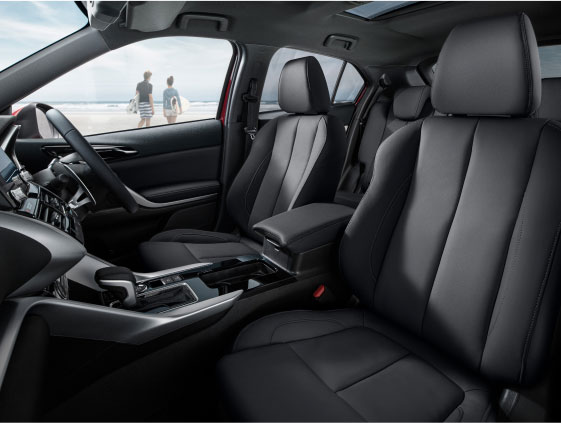 Spacious luxury
Every passenger in Eclipse Cross enjoys room to move and supportive seating that makes long journeys fly by. The rear seats offer ample legroom and reclining adjustment, with a new, larger headrest design for total comfort.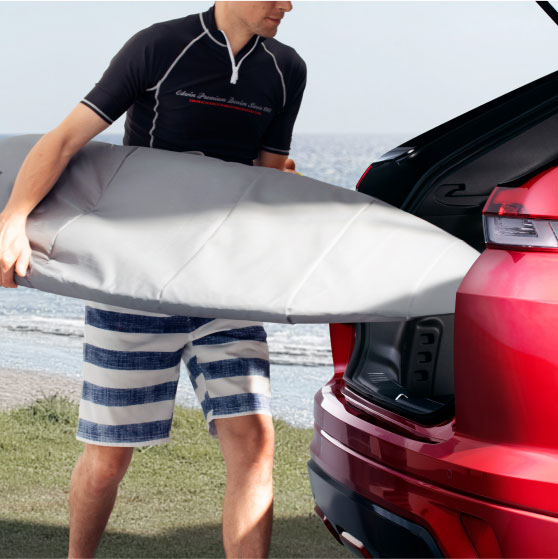 Cargo capacity
Eclipse Cross has generous carrying capacity, with up to 405 litres of space in the rear cargo area. For larger loads, the rear seats can be folded forward.
Technology
Mitsubishi Motors
intuitive technology
Mitsubishi Motors Intuitive Technology, or MiTECK0, combines a range of innovative technologies into one integrated system that works constantly to keep you safe, comfortable and entertained every time you drive. Passive and active safety systems work in unison, alerting, guiding and reacting to help keep you and your passengers safe.
MiTEC on Eclipse Cross
Rear Cross Traffic Alert (RCTA)K9E1
Blind Spot Warning (BSW)E1K8 & Lane Change Assist (LCA)E1K8
Lane Departure warning (LDW)E2
Forward Collision MitigationK10
Multi Around MonitorE1
Automatic dusk sensing headlightsE2
Automatic rain sensing wipersE2
Ultrasonic misacceleration Mitigation System (UMS)C1K7
Hill Start Assist (HSA)
Adaptive Cruise Control (ACC)E1
Automatic High BeamE2
Head Up Display (HUD)C1
View Inventory
Book a Test Drive
Performance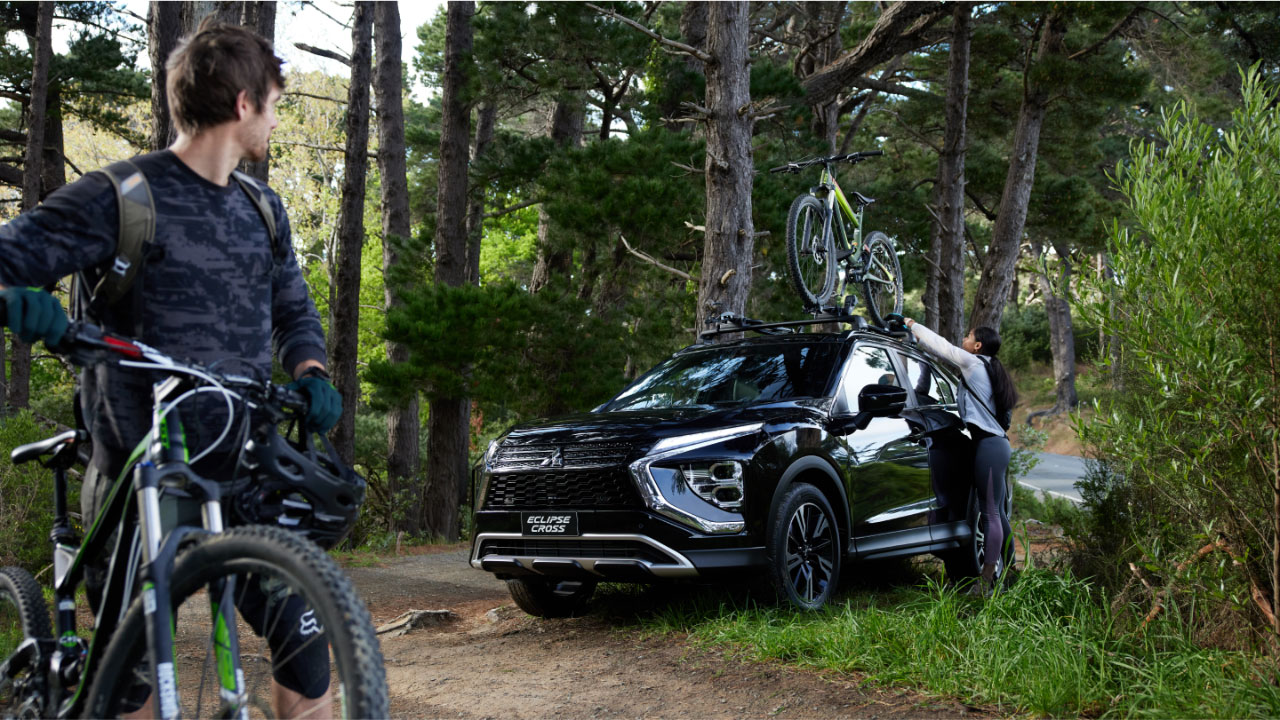 Stay in total
control
Challenges arise when you least expect them. Eclipse Cross's advanced control systems step in intuitively to ensure maximum control, with four driving modes to balance fuel economy and driving performance.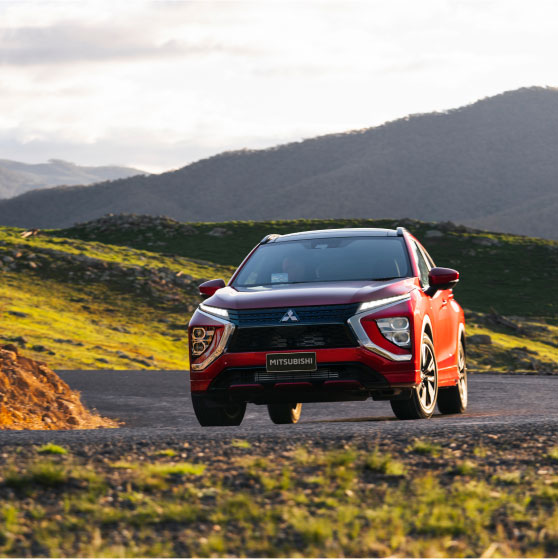 AWD
Mitsubishi's advanced Electronic Control AWD uses intuitive sensors to measure driver inputs so your intention as the driver is conveyed through all four wheels.
You can choose the AWD NORMAL, SNOW or GRAVEL drive mode depending on road conditions to enhance accuracy, straight-line stability and manoeuvrability on slippery roads.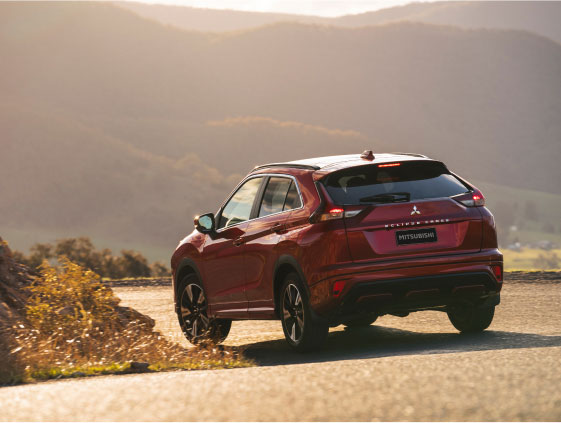 S-AWC
Whether navigating winding roads or snowy conditions, the Super All Wheel Control (S-AWC)E3 system supplies optimal torque to rear wheels for enhanced vehicle dynamics, stability and control.
S-AWC integrates with Mitsubishi's Active Yaw Control (AYC)E3, which uses braking to optimally distribute torque to the left and right wheels. Even if you unintentionally brake or accelerate too hard around a snow-covered turn, you can maintain control without extra steering effort.
Turbo power
and economy
Eclipse Cross is powered by a MIVEC 1.5-litre direct-injection turbo-charged engine. Frugal on fuel, it packs a punch with 110kW of power and 250Nm of torque on tap for crisp acceleration. Revised aerodynamics offer reduced drag for enhanced economy.
Intuitive
and handling
Eclipse Cross is sporty and fun to drive, with nimble, secure handling. The revised rear suspension on Eclipse Cross features larger shock absorbers, springs tuned for optimum response, and a rigid connection to ensure precision and stability.
Personalise

Eclipse Cross

Prepare your Eclipse Cross to fit your lifestyle with Mitsubishi Genuine Accessories. Carry more, tow a trailer, worry less, look your best – choose from our range of practical, stylish accessories with the peace of mind of perfect fit, quality and durability that comes with Genuine Accessories.
eclipse Range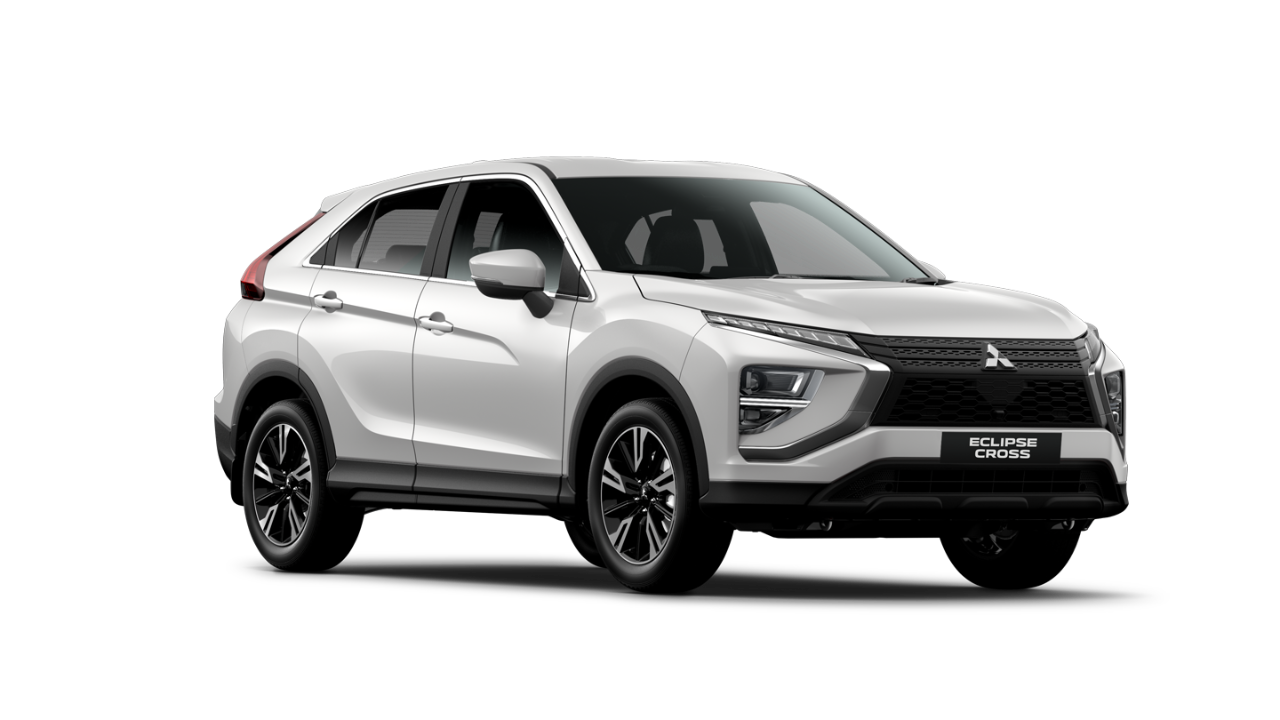 ECLIPSE CROSS ES
2WD / Unleaded / Automatic
1.5L 4 cylinder MIVEC direct injection turbo-charged petrol engine
Continuously Variable Transmission (CVT) with Sport Mode
Smartphone link Display Audio with 8" touchscreenK6
Bluetooth connectivity with steering wheel controls and voice control
Digital Audio Broadcast (DAB)
Forward Collision Mitigation (FCM)K10
Rear view camera
18" alloy wheels
Climate control air conditioning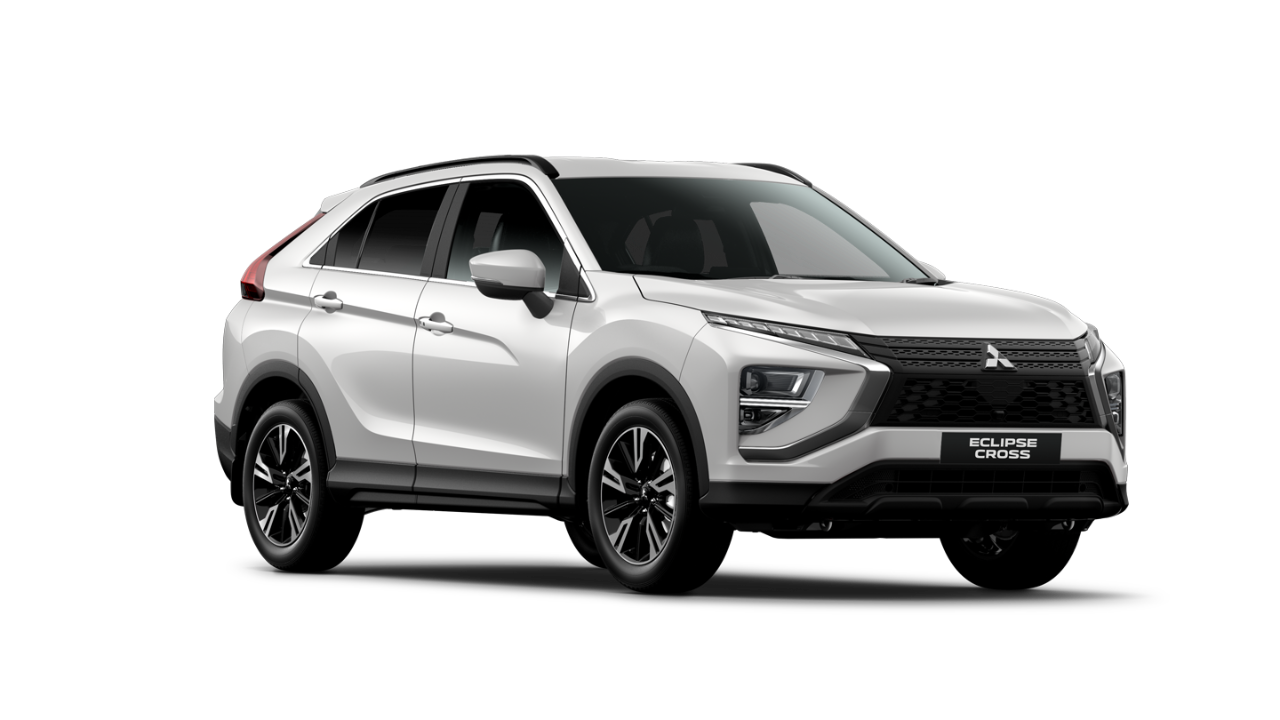 ECLIPSE CROSS LS
2WD / AWD / Unleaded / Automatic
LED front fog lights
Privacy glass
Roof rails
Smart Key with One Touch Start
Lane Departure Warning (LDW)
Rear parking sensors
Rain sensing wipers
Dusk sensing headlights
Automatic High Beam (AHB)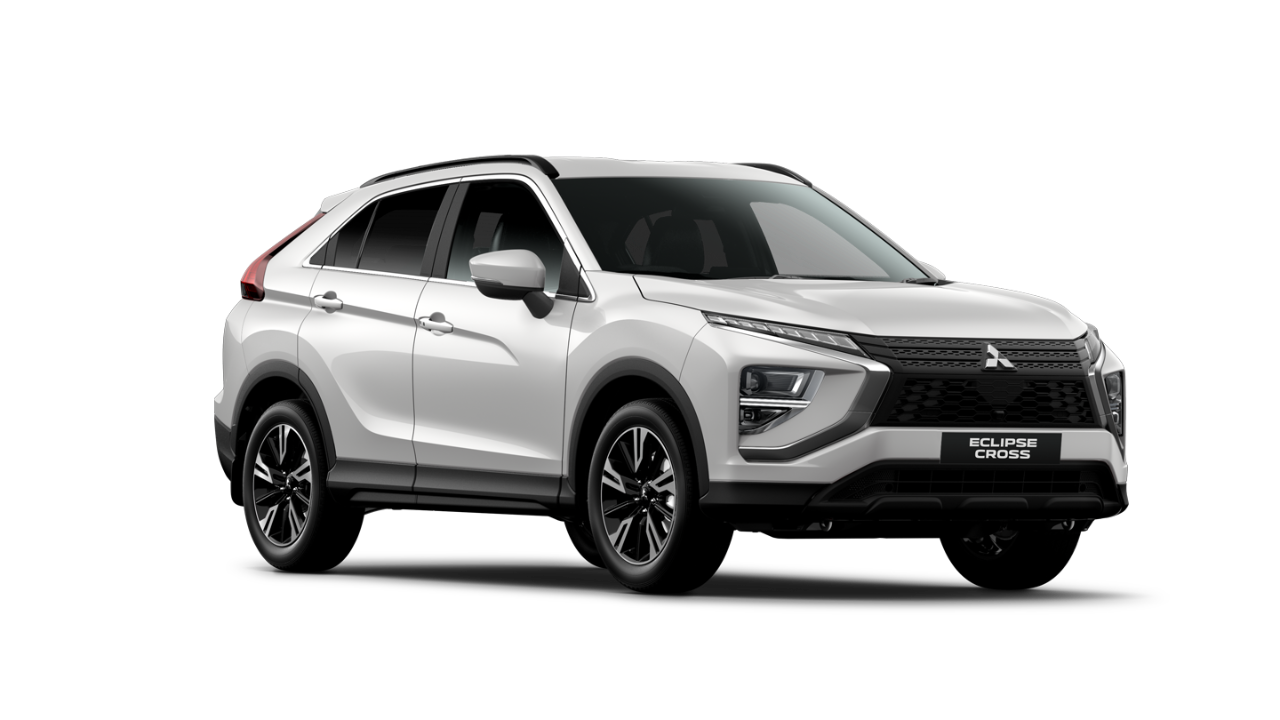 ECLIPSE CROSS LS
AWD / Unleaded / Automatic
LED front fog lights
Privacy glass
Roof rails
Smart Key with One Touch Start
Lane Departure Warning (LDW)
Rear parking sensors
Rain sensing wipers
Dusk sensing headlights
Automatic High Beam (AHB)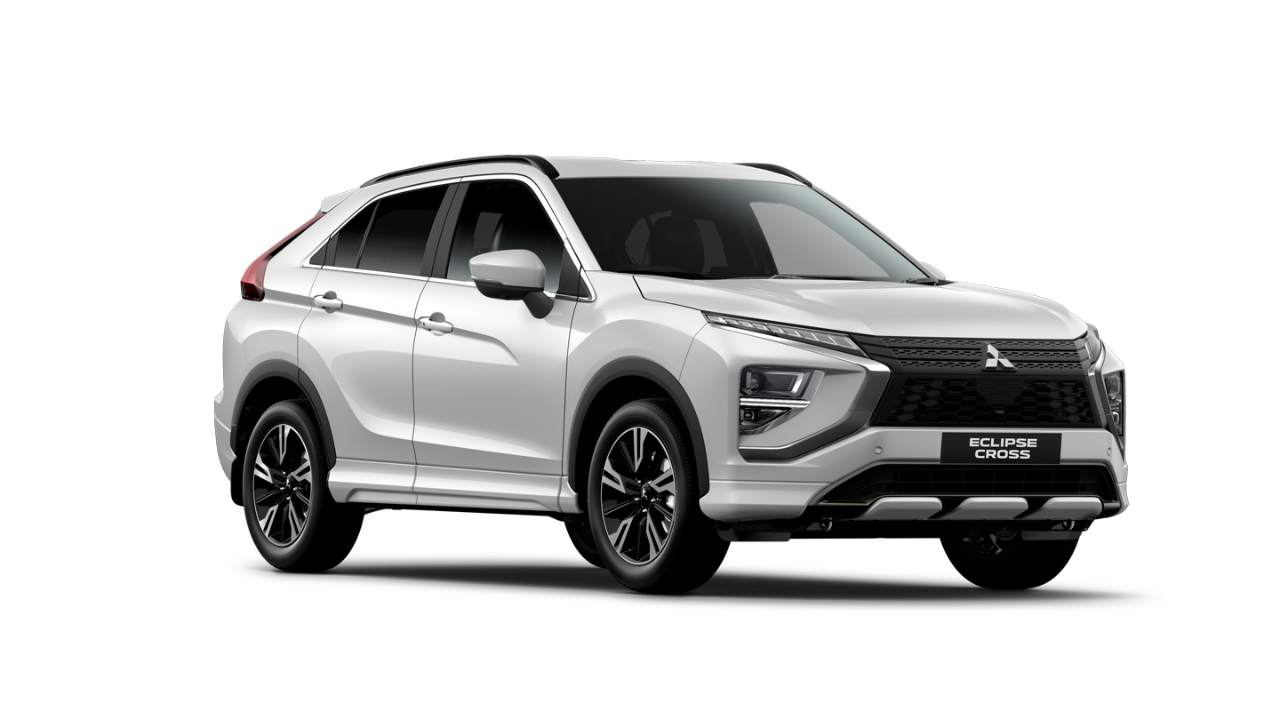 ECLIPSE CROSS ASPIRE
2WD / Unleaded / Automatic
Mitsubishi Power Sound System (MPSS) with 8 speakers
Dual zone climate control air conditioning
Combination micro-suede / leather seat trim
Heated front seats
Driver power seat
8 Corner Sensors (4 front & 4 rear)
Multi Around Monitor (MAM)
Adaptive Cruise Control (ACC)
Rear Cross Traffic Alert (RCTA)K9
Blind Spot Warning (BSW)K8
Lane Change Assist (LCA)K8
Electrochromatic rear view mirror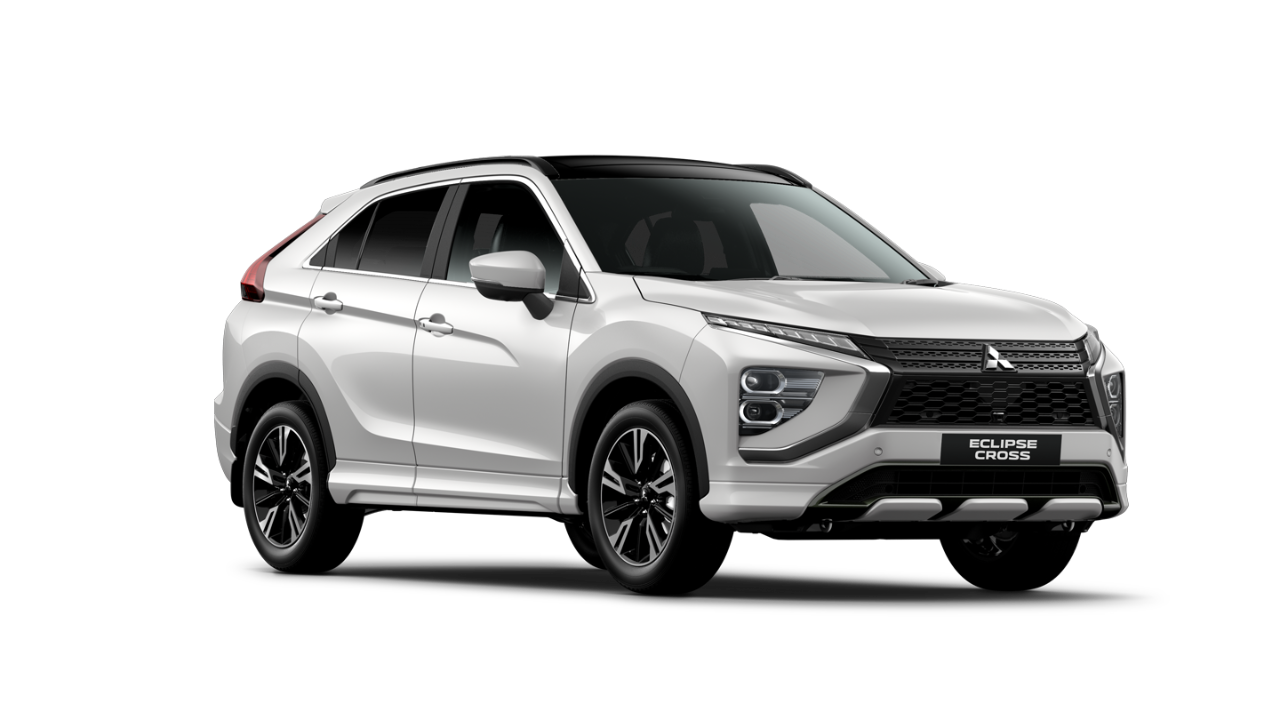 ECLIPSE CROSS EXCEED
2WD/ Unleaded / Automatic
LED headlights
Head Up Display
Double sunroof
Black interior headlining
Leather appointed seats
Driver and passenger power front seats
Heated front & rear seats
Heated steering wheel
Integrated navigation system
Ultrasonic misacceleration Mitigation System (UMS)K7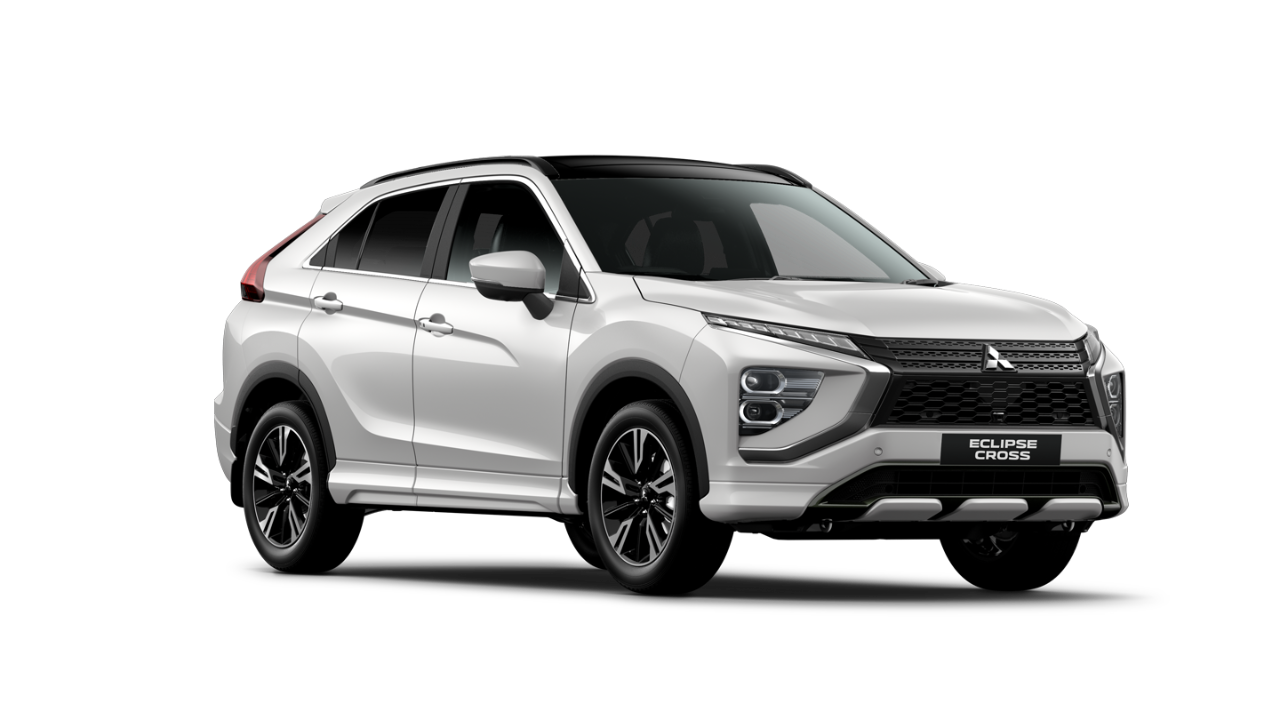 ECLIPSE CROSS EXCEED
AWD/ Unleaded / Automatic
LED headlights
Head Up Display
Double sunroof
Black interior headlining
Leather appointed seats
Driver and passenger power front seats
Heated front & rear seats
Heated steering wheel
Integrated navigation system
Ultrasonic misacceleration Mitigation System (UMS)K7
Eclipse Cross Plug-in Hybrid ES
AWD/ Unleaded / Automatic
Two Electric Drive Motors (Twin Motors)
13.8KWh Lithium-ion Battery Pack
2.4L Petrol Engine
Variable Mode Regenerative Braking System
Mode 2 & 3 Charge Cable
AWD
Super All Wheel Control (S-AWC)
Smartphone link Display Audio with 8" touchscreenK6
Bluetooth connectivity with steering wheel controls and voice control
Digital Audio Broadcast (DAB)
Forward Collision Mitigation (FCM)K10
Lane Departure Warning (LDW)
Rear view camera
Eclipse Cross Plug-in Hybrid ASPIRE
AWD/ Unleaded / Automatic
Two Electric Drive Motors (Twin Motors)
13.8KWh Lithium-ion Battery Pack
2.4L Petrol Engine
Variable Mode Regenerative Braking System
Mode 2 & 3 Charge Cable
AWD
Super All Wheel Control (S-AWC)
Smartphone link Display Audio with 8" touchscreenK6
Bluetooth connectivity with steering wheel controls and voice control
Digital Audio Broadcast (DAB)
Forward Collision Mitigation (FCM)K10
Lane Departure Warning (LDW)
Multi Around Monitor (MAM)
Adaptive Cruise Control (ACC)
Rear Cross Traffic Alert (RCTA)K9
Blind Spot Warning (BSW)K8
Lane Change Assist (LCA)K8
Rear view camera
Heated front seats
Eclipse Cross Plug-in Hybrid EXCEED
AWD/ Unleaded / Automatic
Two Electric Drive Motors (Twin Motors)
13.8KWh Lithium-ion Battery Pack
2.4L Petrol Engine
Variable Mode Regenerative Braking System
Mode 2 & 3 Charge Cable
AWD
Super All Wheel Control (S-AWC)
Smartphone link Display Audio with 8" touchscreenK6
Bluetooth connectivity with steering wheel controls and voice control
Digital Audio Broadcast (DAB)
Forward Collision Mitigation (FCM)K10
Lane Departure Warning (LDW)
Multi Around Monitor (MAM)
Adaptive Cruise Control (ACC)
Rear Cross Traffic Alert (RCTA)K9
Blind Spot Warning (BSW)K8
Lane Change Assist (LCA)K8
Ultrasonic misacceleration Mitigation System (UMS)K7
Rear view camera
Heated front seats & steering wheel
Head Up Display
Double sunroof
Leather appointed seats